Our Family owned Company, PROGRESSIO Engineering Bureau Ltd. was founded in 1999 as a mainstream environmental protection company. The office branch works in Székesfehérvár, our colleagues are experts of IPPC and environmental documentation.
The company operates three research laboratories (Pro-Research). On these sites we are able to serve as both high quality organic synthesis and analytical services as well as environmental chemistry R&D laboratory.
 Research for the environment – Environment friendly research
We offer environmental R&D, in order to achieve this, we opened our research site in 2013. Based on our experiences and equipments we are conducting organic research as well. Our main research interest is the synthesis of diagnostic compounds: we synthesize radiotracer precursors, ligands and also fluorescent compounds.
We are committed to use and develop technologies for chemical synthesis producing less waste, using environmental friendly solvents and procedures.
Our laboratory is equipped with GC-MS, HPLC-DAD-MS, HPLC-UV-FLD, SFC, preparative HPLC and FT-IR, and built on the European standards, with the aim of both personal and environmental protection.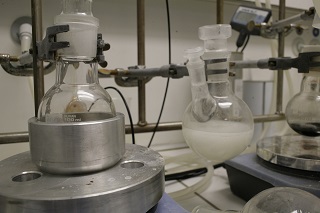 Our publications and presentations:
Szöllősi, D., Hegedűs, N., Veres, D.S. et al. Evaluation of Brain Nuclear Medicine Imaging Tracers in a Murine Model of Sepsis-Associated Encephalopathy. Mol Imaging Biol 2018, 20, 952–962.
Németh Á.; Kaleta Z. WSEAS Transactions on Environment and Development 2015, 11, 80-88.
Si-SUBSTITUTED XANTHENE FLUORESCENT DYES WITH NEAR INFRARED EMISSION
SYNTHESIS AND BIOLOGICAL EVALUATION OF THE PRECURSOR OF A RADIOACTIVE IODINE LABELED BIOACTIVE COMPOUND